London: Learning
Get some skills on vacation, from cooking classes to tours conducted by PhDs
Learn Tours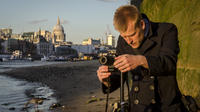 Come explore the enchanting streets of this thrilling and photogenic metropolis. Follow along with your professional photographer-guide as you explore the most captivating angles of iconic London, as well as new sites you will not soon forget. All the while, you will demystify the complexities of your camera and learn you how to capture the perfect shot.
This 3-hour private tour will take you through the center of London, taking in sites such as Palace of Westminster and Big Ben, the London Eye, Trafalgar Square and the maze of streets making up the Soho district and Piccadilly Circus. Whether you are an old hat to London, or just are fascinated with a different neighborhood, this tour can be customized to suit your needs.

You'll begin each tour in a cafe (coffee provided) where you will explore your level of skill so the tour can be designed for your level of experience and your specific interests. Whether you are a well-worn shooter or this is your first camera, you'll learn tricks and techniques for taking envy inducing images.

During the tour you can expect to learn:
Composition, use of lines and angles
Learning how to find your images
Exploring your camera: how to use and understand; f-stop, shutter speed, ISO and more
How to make the perfect exposure in Manual mode
A friendly evaluation of your work

Every tour is privately booked so you won't be sharing your time and attention with strangers, however feel free to bring along friends and family. All our guides are experienced locals and have plenty of historical stories to tell to help keep the less photographically inclined entertained.

You're guaranteed to have an experience of London you will love, images that will wow your family and friends and skills that will last a lifetime.

(no rating)
Enjoy the couples dance experience and learn something new and exciting with your very own personal professional choreographer.
Choose your favourite song and dance style and have a bespoke routine created for you and your partner. Our talented choreographers can accommodate various styles from traditional disciplines such as Salsa, Ballroom (Strictly Come Dancing), west end classics Dirty Dancing, pop hits Beyonce "Crazy In Love", Bollywood, 1920′s Charleston, and urban styles such as Street Dance if you're feeling adventurous.

Your lesson is organised in a top central London dance studio exclusively for you and your partner to enjoy this experience in a safe, fun and professional environment.

(no rating)
These might include learn
More tours