Bus

Planning a trip to London

Do not buy point-to-point tickets. What you want is an Oyster Card (possibly with a Travelcard transit pass).

Long-distance buses are called "coaches" in Britain
Bus Tours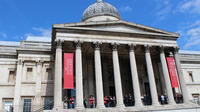 Explore sites made famous in the filming of the BBC's popular 'Sherlock' TV series on this 3-hour mini-coach tour in London. Travel through the British capital with a guide and discover sites where scenes from 'Sherlock' were filmed. Visit Euston, Southwark, the City and Westminster, and follow in the footsteps of Benedict Cumberbatch and Martin Freeman, the two stars of the hit show. Tour includes live commentary and round-trip travel from central London.
Hop aboard your mini-coach in central London at 9:30am, then spin through the city as your guide sheds light on hit BBC TV series Sherlock. Since first airing in 2010, Sherlock has gained a huge audience worldwide for its alternative take on Conan Doyle's famous detective.

During your 3-hour tour, visit filming locations featured in the first three series of the show such as Euston, the City Southwark, and Westminster. Along the way, hear stories from behind the scenes of filming.

Explore key sites of interest with your guide, and capture famous landmarks and hidden locations featured in Sherlock Holmes' adventures through the lens of your camera. Afterward, conclude your tour in central London.

(no rating)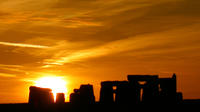 This tour offers a return shuttle service from central London to Stonehenge to watch the sunrise amongst the stones and enjoy the festivities of the Summer Solstice Event.
At 1am, you will meet the coach and driver Opposite Earls Court Underground Station, Warwick Road Exit - Please Wait at London Bus Stop C in Front of former/closed Exhibition Centre. (Please note, we cannot hold the coach for late running passengers)

Once all passengers are on board the coach, we will depart for Stonehenge. We are expected to arrive by approximately 2:30am and you will then have free time to explore the Summer Solstice event and watch the sunrise amongst the stones at approximately 4:52am. 

At 6:30am, we will depart Stonehenge to arrive back at Earls Court Underground Station for around 9am.

(no rating)
These might include bus
More tours