Eurostar trains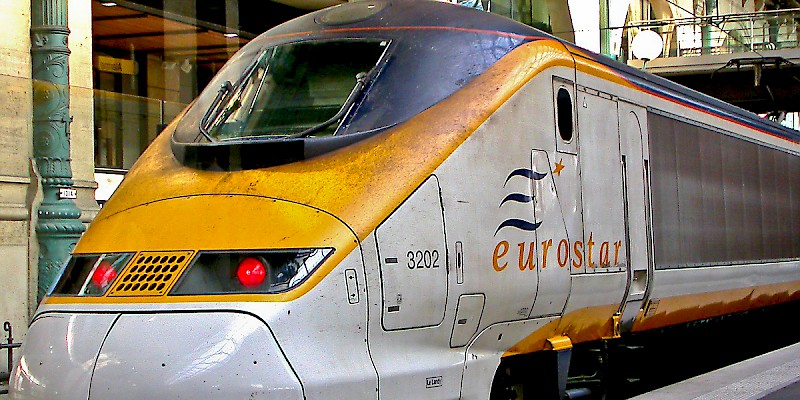 Connecting London to Paris, Brussels, and the rest of Continental Europe at high speeds though the Chunnel
The Eurostar train connects London with Paris (and London with Brussels) through the Channel Tunnel.
How long does the Eurostar train take?
Trains from London to Brussels take about 2 hours (technically, 1:51 to 2:04).
However, due to the time change (England is one hour behind Belgium and France), when leaving from London, the clocks in Paris will show you arriving not 2:16 hours later, but rather 3:16 hours (in Brussels 2:51 hours later). On the plus side, going from Paris to London you arrive a mere 1:16 hours later by the clock, from London to Brussels you're there in just about an hour! 
Since the classic ferry route—regular train from London to Dover, ferry over to Calais, regular train from there to Paris—takes essentially all day and costs almost the same amount, Eurostar is a great deal. 
How much does the Eurostar train cost?
In brief, tickets between London and either Paris or Brussels start at €51 one-way, €78 round-trip.
One of the truly sad things is that Eurostar pricing works a bit like that of traditional airlines: Tickets cost a bit more than you'd really like them to, and for some inexplicable and asinine reason, one-way tickets cost around 80% the price of round-trip ones (instead of 50%).
I'm not going to provide a range of specific prices here because (a) they are seasonal (and I don't know when you're traveling), and (b) there are three price categories: "Standard," "Standard Premier," and "Business Premier."
About the best advice I can give is:
Book online. Booking in person at the station or over the phone adds a €14 fee (except for Business Premier).
Booking in advance saves you money.
Book ahead regardless, since the Eurostar does sell out, especially on "bank holidays" (3-day weekends).
Discounts are available for children (under 12; under 4 are free). (Note: They have recently done away with the discount for railpass holders.) 
Where do I catch the Eurostar train?
In London, Eurostar trains arrive and depart from St. Pancras Station (www.stpancras.com). (Until Nov., 2007, the train used Waterloo Station, so make sure you're not using an outdated guidebook.) 
In Paris the train station for the Chunnel train is Gare du Nord in Paris (www.gares-en-mouvement.com).
In Brussels it's the Central Station. 
Tickets
Tips
Check in early
You are required to check in at least 30 minutes before departure (10 min. if you overpaid for Business Class), and they airport-style secutiry lines, so plan on getting to the station well ahead of time—I'd say at least one hour ahead of your scheduled departure, just to be safe.
Related pages
Similar interests: