Henri de Toulouse-Lautrec
A louche, Bohemian painter of tavern and theatre scenes
Henri Marie Raymond de Toulouse-Lautrec-Monfa (1864-1901) is most famous for his work with thinned down oils to create paintings and posters of wispy, fluid lines anticipating Art Nouveau and often depicting the Bohemian life of Paris (dance halls, cafes, top-hatted patrons of fancy parties, and—of course—the Moulin Rouge).
His parents, a count and countess, were first cousins, and the inbreeding habits of European royalty probably contributed to Toulouse-Lautrec's lifelong health issues, including fracturing both legs as a teen, which then never grew while his torso did, giving him an odd adult appearance and statue (4' 8").
He disappeared into a life of art, alcohol, dance halls, and prostitutes and while he produced a prodigious amount of art, his health only continued to deteriorate. Toulouse-Lautrec never lived to inherited his father's title, dying at the age of 26 from complications of alcoholism and syphilis. 
Selected works by Toulouse-Lautrec in England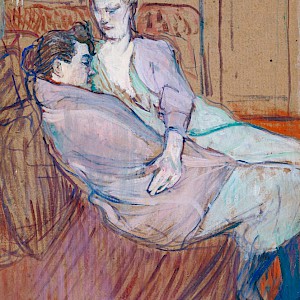 The Two Friends (1894) by Henri de Toulouse-Lautrec in the National Gallery, London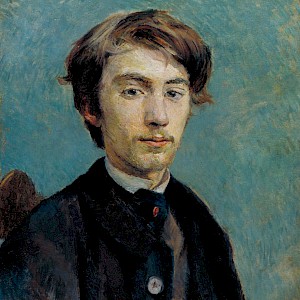 Emile Bernard (1885) by Henri de Toulouse-Lautrec in the Tate Modern, London
Where to find works by Toulouse-Lautrec in England
Related pages
Similar interests:
Artists & others: