Covent Garden Market and piazza
★
☆☆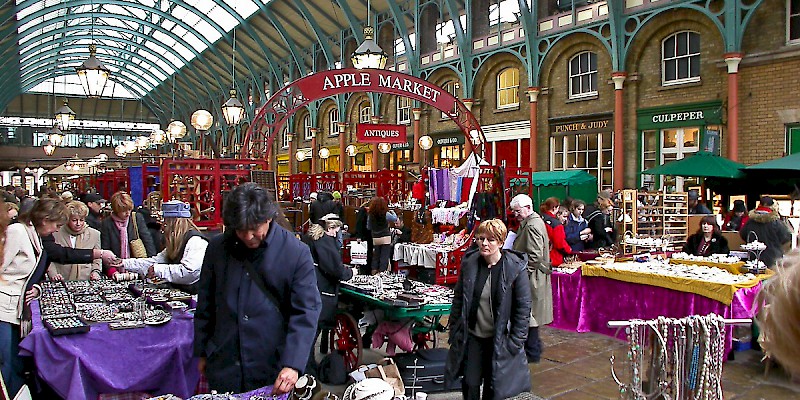 The bustling heart of London's upscale West End
At the heart of the vibrant shop-and pub-filled Covent Garden theatre neighborhood is the pedestrian Piazza, a would-be Italian square around the Covent Garden Market.
The fruit and veg market of Elisa Doolitte fame vanished in 1970; today's this is more sort of a miniature mall set in a historic building (a British cousin to Boston's Faneuil Hall, or San Francisco's Fisherman's Wharf). The little shops and caffs fill a small rectangular building, most with entrances on both the outside as well as onto the glass-and-iron skylit courtyard.
The central market building dates to 1830—part of a push by Parliament to clean up the disreputable red light district that had grown up around this venerable market, which has been running since the 1650s. The southern Jubilee Market building was added in 1904, and the whole thing was scrubbed and reopened as a tourist market in the 1980s.
The Apple Market in the north hall and the East Collonade Market both feature small booths hawking crafts and jewelry.
The Jubilee Market features a rotating schedule of specialties: Arts and crafts Saturday and Sunday, antiques on Monday, and household goods the rest of the week.
The piazza is flanked on the west end by the church of St. Paul's (a.k.a. "The Actor's Church," built in 1631 by Renaissance master Inigo Jones, and boasting its own resident theatre troupe and professional chamber orchestra), and on east end by the London Transport Museum and the Royal Opera House.
Covent Garden Market Tours
These might include Covent Garden Market
More tours
Tips
How long does Covent Garden take?
If you just want to take a glance around, budget 15 minutes.
If you plan to take a meal and/or shop the stalls, give it at least an hour.
Related pages
Similar interests:
Artists & others: