James Bond's London
☆☆☆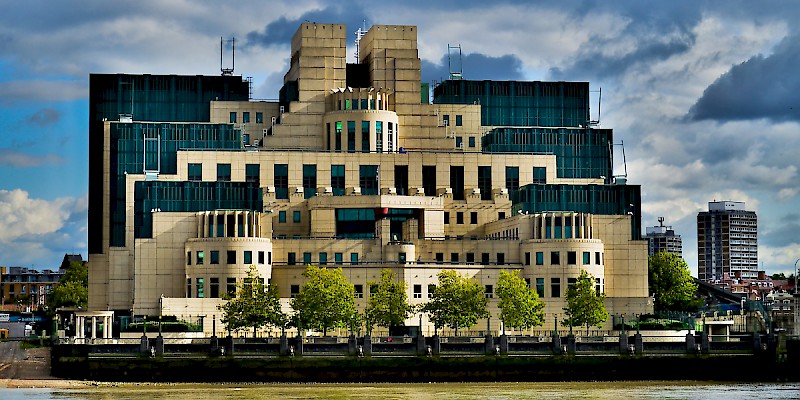 Bond, James Bond, does occasionally report back to MI6 in London, and while there sometimes even engages in a high speed chase or two though the city streets or on the River Thames
Everybody's favorite spy in Her Majesty's Secret Service spends much of his time in exotic locales, but he does sometimes head back to London—especially the more recent Pierce Brosnan and Daniel Craig takes on Britian's most durable assassin.
You can imagine yourself strolling into the Old War Office Building in Whitehall to see M, as it served for exertior shots of "MI6" in the Roger Moore and Timothy Dalton eras.
By the end of Brosnan's tenure, Bond's HQ was eventually moved into that Thameside pile of Vauxhall Cross, the actual home of the real MI6... just in time for it to be blown up and send M, Q, Moneypenny, and Daniel Craig into much more evocative Victorian-era brick cellars.
Or just sit in Room 34 of the National Gallery, staring at Turner's painting "The Fighting Temeraire Tugged to Her Last Berth to be Broken Up," waiting for the new Q, Ben Whishaw, to show up and give you some snark and some new gadgets.
On a tour, you'll learn plenty of Bond trivia, plus the movie tricks that turned Somerset House into "St. Petersburg" (Tomorrow Never Dies), the famous Reform Club into "Blades" (Die Another Day; it also served as the Foreign Office in Quantum of Solace), and the South Bank Lion on Westminster Bridge into a secret MI6 entrance (Die Another Day again). 
You can even channel a bit of Pierce Brosnan while careening around the Thames Barrier in a speedboat, listening to the Bond theme song while you whiz past the (former) O2 Arena onto which our hero falls from the balloon in The World is Not Enough.
Fleming fans will also want to visit 27 Green Street, where Ian Lancaster Fleming was born on 28 May 1908, and 16 Victoria Square where he lived from 1953 to 1964, during the James Bond era (though Fleming actually did most of this writing during his annual holidays at his Jamaican villa, Goldeneye, which is actually now a way-cool hotel).
For a more interactive experience, belly up to the bar at Mayfair's Dukes Hotel. It was here that one night, deep into his cups, Ian Fleming decided that his hero would flout all the carefully proscribed conventions of cocktails.
Bond would dare to order a martini after dinner (not as an aperitif); he would instruct the barman to (gasp!) mix different white spirits (three measures of Gordon's, one of vodka, half of Kina Lillet, garnished with a lemon peel), and he would even insist that it be "shaken, not stirred" (all cocktails were stirred at the time). 
Thus was born the Vesper—and James Bond's most classic line.
(OK, so perhaps "Bond... James Bond" ties for most classic line—but it is also why I never refer to Bond as a "secret agent." The first thing he does wheverver he meets someone—bad guys and henchmen/women included—is introduce himself using his real name. Polite? Yes. Secret? Not so much.) 
James Bond Tours
These might include James Bond
More tours
James Bond
Related pages
Similar interests:
Artists & others: