48 hours in London
How to make the most of two days in London
Hail Brittania! The medieval Tower, tombs of Westminster, Houses of Parliament, and glories of the British Museum
Get up early and be at the Tower of London before it opens 9am (it helps to buy skip-the-line tickets ahead of time) so you can get on the first Yeoman Warder tour of this bastion of London's Middle Ages.
Time: 155 min. (The tour lasts an hour. Budget another 45 minutes to tour the White Tower, 30 minutes for the Crown Jewels, and 20 minutes to wander the grounds and walls.)
Transit: District or Circle to Tower Hill.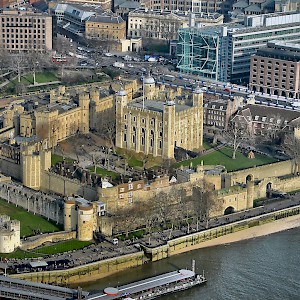 The ancient Thameside castle at the heart of London, where London began, ravens roam, and Yoeman Warders guard the Crown Jewels
Make sure you get off the Tube at Westminster station so you have a chance to see the iconic Elizabeth Tower of the Parliament building—which most people call "Big Ben" (technically, that's just the name of one of the bells inside the tower). Once the bells are chiming again (scheduled for summer 2021), stick around long enough to hear it to ring the noon hour with its famous Cambridge Chimes tune.  
Time: 10 min.
Transit: District or Circle to Westminster.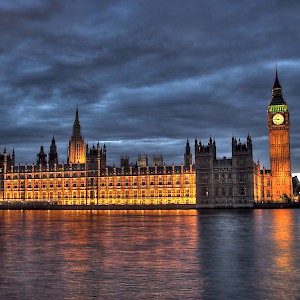 London's iconic exclamation point, the clock tower housing Big Ben, sprouts from the honey-hued complex of be-spired 1840 buildings where British Parliament meets (and you can attend sessions)
Make your way to the British Museum, the world's greatest repository of archaeological finds—the Rosetta Stone, Egyptian mummies, Parthenon friezes, Celtic hordes, Roman statues, Easter Island moai, and so much more. Stay until they kick you out (unless it's Friday, when they stay open late, then leave around 5:30pm instead!)
Time: 165 min. (Budget at least 20 minutes for the awesome museum shop.)
Transit: District or Circle to Embankment, then Northern to Tottenham Court Road.
London's great Gothic abbey is packed with the tombs and monuments of British monarchs and some the world's most famous playwrights, poets, scientists, and other notables
Have an early-ish dinner, then spend the evening doing whatever floats your boat (some ideas are below)
Time: 90 min.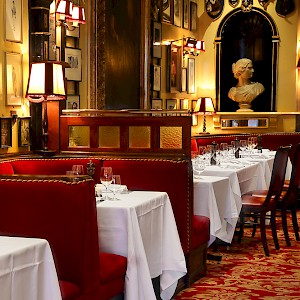 Recommended restaurants, pubs, cafes, and other dining options in London
For your evening plans, choose one of the following: 
Sorry. Nothing fits that criteria.
Option 1: Attend a play or a show.
Option 2: Indulge in a pub crawl (an early play may leave you time to pub-crawl a bit afterward).
Option 3: Just drink in the street acts and nighttime crowds milling around Leicester Square, Piccadilly, and Covent Garden.
A bustling plaza of buskers, tourists, theatre-goers, and pub crawlers at the heart of London's West End
The finer things: Old Masters and modern art, free concerts and a Shakespeare play
Start your day on the north side of Trafalgar Square at the National Gallery, filled with Old Master paintings.
Time: 90 min.  
Transit: Northern or Bakerloo to Charing Cross; Picadilly to Leicester Square; or Circle/District to Embankment.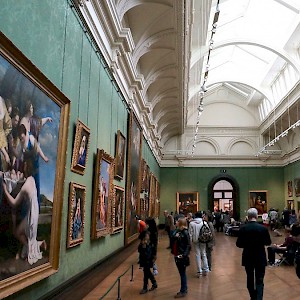 England's greatest repository of Old Masters paintings, with works by Leonardo, Botticelli, Rembrandt, Monet, Degas, and more
Walk across the top end of the square to visit St. Martin in the Fields, the blueprint for 1,001 be-spired New England churches.
Time: 15 min.
Transit: Walk.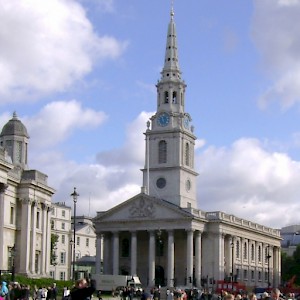 London's 18th century church steepling Trafalgar Square hosts excellent free lunchtime concerts with a cheap cafe in the crypt
Head outside the church, turn right, and find the glass entrance near the north flank of the church to the Cafe in the Crypt (which is actually under the church, but has a separate entrance). Have lunch atop a tombstone.
Time: 45 min.
Transit: Walk.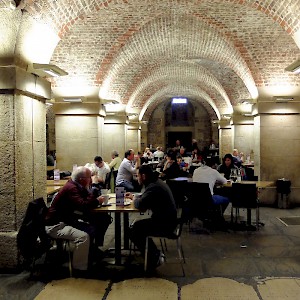 A fabulous, inexpensive lunch spot atop tombstones in the crypt of St. Martin-in-the-Fields church on Trafalgar Square
OK, now return back up and inside the church itself for a free lunchtime concert (note: on Wednesdays it's a Choral Eucharist instead, and on Sundays it's mass in Mandarin—which is also interesting).
Time: 30 min.
Transit: Walk.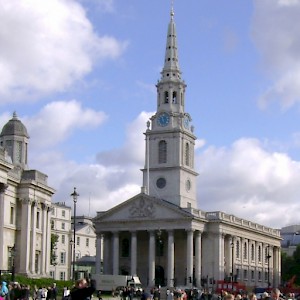 London's 18th century church steepling Trafalgar Square hosts excellent free lunchtime concerts with a cheap cafe in the crypt
Make your way to St Paul's Cathedral. Be sure to visit the tomb in the basement, and climb the dome for splendiferous views over London.
Time: 75 min.
Transit: Circle from Embankment to St Paul's.
Cross the Millennium Bridge to Southwark.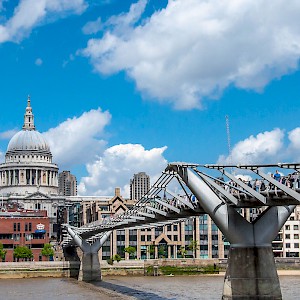 This modern pedestrian suspension bridge between the City and Southwark has quickly become a beloved landmark
Walk just east of the bridge to the famous Shakepeare's Globe Theatre, a delighfully accurate replica of an Elizabethan-era performance space. Spend 20 minutes or so perusing the museum exhibition on the history of the Globe and of London theatre while you wait to join the next tour around the theater itself.
TIP: If there is a play on tonight (usually at 6pm or 7:30pm), I highly recommend arranging for tickets ahead of time (or you can play it by ear and see if there are any left when you stop in). Then plan to return to the Globe for the show after you visit the Tate, which is next.
Time: 60 min.
Even if you can't attend a performance, this painstaking replica of an Elizabethan theater in the round is worth a visit just to see it and learn more about the history of British theatre
Retrace your steps back to the foot of the Millennium Bridge and the Tate Modern, a fabulous museum of modern and contemporary art in an old power station. Make sure you save time for the excellent museum shop (good spot for gifts).
Time: 85 min.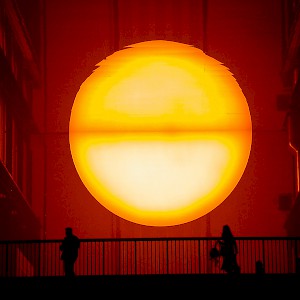 Fantastic modern art museum in a massive former power plant, with blockbuster exhibitions and a fab gift shop and bookstore
Time to turn around yet again and walk back past the Globe to enjoy a drink (and maybe dinner) in The Anchor Bankside, an historic pub where Shakespeare himself once got sloshed and many other famed Londoners have enjoyed a tipple.
(If you are going to the Globe for a 7:30pm play, you will have just enough time to raise a glass or two; if your show is at 6pm, just come here afterwards.)
Time: An hour (more if you aren't headed to play).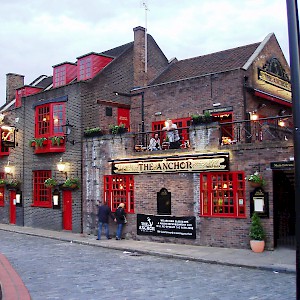 Favorite Southwark pub filled with cozy snugs and literary associations just a block from Shakespeare's Globe
A play's the thing! Take in a play as the bard intended it to be heard Shakespeare's Globe Theatre. (As mentioned above, some shows start at 6pm, so adjust accordingly.)
Time: 2–3 hours.
The play's the thing... to do at Shakespeare's Globe, a faithful recreation of a genuine Elizabethan theater in the round.
What the grey and blue time bubbles mean
Since this itinerary takes into account travel time (walking, taking the Tube, driving, whatever):
The times in grey circles are the times by which you need to start moving in order to go to the next stop.
The times in blue circles are the times by which you should arrive at that stop to begin the fun.