Royal Naval College
☆☆☆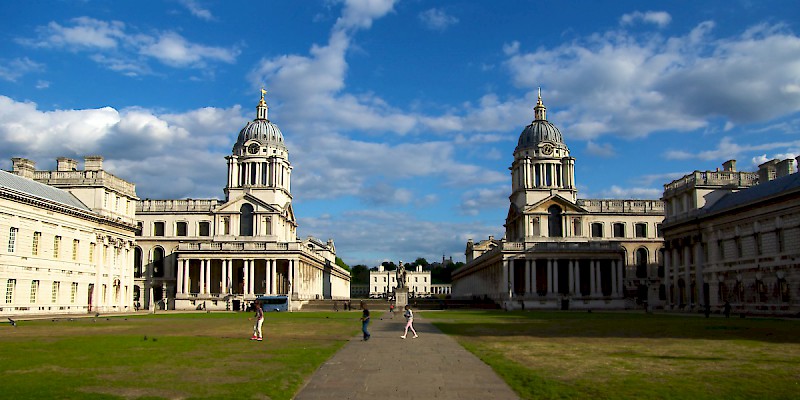 Nelson's body lay in state in in Thornhill's impressive Painted Hall of this vast Christopher Wren building in Greenwich
Renaissance genius Christopher Wren designed this sprawling complex in 1696 as a Royal Hospital for Seamen. (And, if Hollywood is to be believed, the superhero Thor destroyed half of it battling baddies in his second solo movie in 2013.)
The Painted Hall
Nelson's body lay in state in Sir James Thornhill's impressive Painted Hall, often called "The Sistine Chapel of of the UK." It, too, was designed by none of than Sir Christopher Wren (with an assist by Nicholas Hawksmoor) as a dining hall for the residents of the Royal Hospital for Seamen.
It was painted with a theme of the Triumph of Peace and Liberty over Tyranny (along with lots of naval allusions) by Sir James Thornhill between 1708 and 1727, including the 5,683 square feet of the ceiling, England's largest figurative painting with King William and Queen Mary seated in glory in the middle of the central oval. 
There are daily talks in the Painted Hall at 11:45, 12.45, 14:45, and 15:45—but note that the Painted Hall may be closed on ocassion from 2016–19 for a massive restoration project.
The Chapel
The lovely neo-classical Chapel of St. Peter and St. Paul was designed in the 18th century by James "Athenian" Stuart and William Newton. Inside is an altarpiece by Benjamin West.
Back when this entire structure was the Royal Hospital for Seamen, the chapel was for recuperating sailors, and the rope motif ringing the pews matches the diameter of an anchor cable on a first-rate ship of the line.
The Samuel Green organ of 1789—and excellent acoustics—are still used to provide concerts and Evensong performances.
Royal Naval College Tours
Tours of Greenwich that might also include Royal Naval College
These might include Royal Naval College
More tours
Tips
How long should I spend at the Royal Naval College?
Budget about 20–40 minutes to wander the campus and poke around the highlights (longer if you happen across a talk).