Guildhall Gallery
★
☆☆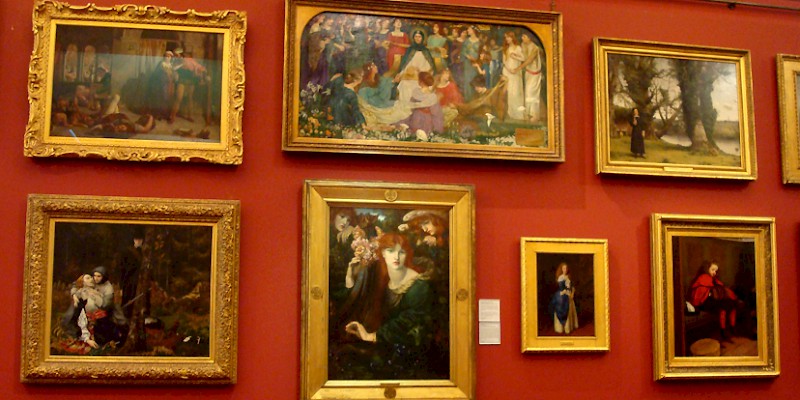 A small, free city museum of London life, Victorian and Pre-Raphaelite art, and Roman ruins in the basement
This free, city-run gallery contains portraits and views of London life from the 1670s on, plus a good collection of Dutch works, paintings by Hogarth, Constable, and Turner, and plenty of Victorian and Pre-Raphaelite paintings and sculptures.
Frankly, this was long a perfectly adequate, no-star sight... until they unearthed some remains of ancient Roman Londinium in the basement.
The Roman Amphitheater
Frankly, Guildhall was a perfectly adequate, no-star sight... until they unearthed the remains of the AD 2nd century Roman Ampthitheatre in the basement in 1985.
Excavated and finally open to the public—again, for free—you can now see where up top 7,000 bloodthirtsy Roman-era spectators once cheered on galdiators and wild animal battles from tiered wooden benches.
No, it's not the Colosseum in Rome; it's a bunch of crumbly stacks of bricks and stones in a civic basement. But the original space is artfully recreated in lines of light on the walls, and the interpretive plaques are entertaining. Worth popping in.
Guildhall Heritage Gallery
Also recently opened (in 2014), Guildhall's Heritage Gallery that showcases, on a rotating basis, some of the 100km-worth of documents from the London Metropolitan Archives in the Guildhall Library.
You never know what you will see (no precious document is kept on display too long for fear of damage), but among its big guns are a 1297 copy of the Magna Carta, a First Folio of Shakespeare (as well as a deed with Shakespeare's signature), the 1067 William Charter, and a colonial-era letter to the City signed by John Hancock.
Tips
How long should I spend at the Guildhall Gallery?
It doesn't take long, honestly, but is worth half an hour.