The Sherlock Holmes Museum
☆☆☆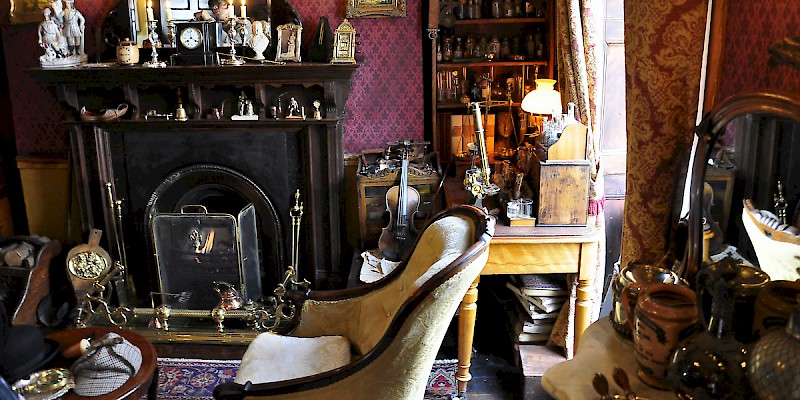 This actual Victorian boarding house at 221b Baker Street is a (contrived, but fun) recreation of how Holmes' and Watson's home might have looked
London's Sherlock Holmes Museum resides at good old 221b Baker Street, the boarding house run by Mrs. Hudson where private investigator extraorindaire Sherlock Holmes and his intrepid companion Dr. John Watson let rooms from 1881 to 1904.
Or, of course, not—since both men were fictional characters invented by Sir Arthur Conan Doyle.
In fact, there never was a "221b" on Baker street until the City of Westminster gave special dispensation to create the famous address when this museum opened in 1990.
(You will note that it is, confusingly, actually located between 237 and 241 Baker Street. This is because it used to be 239, until the museum's backers bought the place. What's more, the round blue "historic marker" on the exterior brick wall that attests to Holmes's residency is not an official English Heritage marker, just a very good facsimilie.)
Not that this classic Georgian house isn't at least period-appropriate—all narrow staircases and Victorian decor—and it even was an actual boarding house during the appropriate era (actually, from 1860 all the way to 1936).
"Sherlock" and "Watson" take turns on alternating days greeting visitors in these tight rooms crammed with the furnishings, props, and Victorian-era scientific apparati fans would recognize or expect to find, from microscopes, a doctor's bag, and reams of books to a violin propped in a chair, a deerstalker cap, and a lovely collection of pipes.
Tips
How long should I spend at the Sherlock Holmes Museum?
It really only takes about 30–45 minutes to tour this little museum and peruse the offerings in the shop.
Related
Related pages
Similar interests:
Artists & others: