Punting the Cherwell
★★★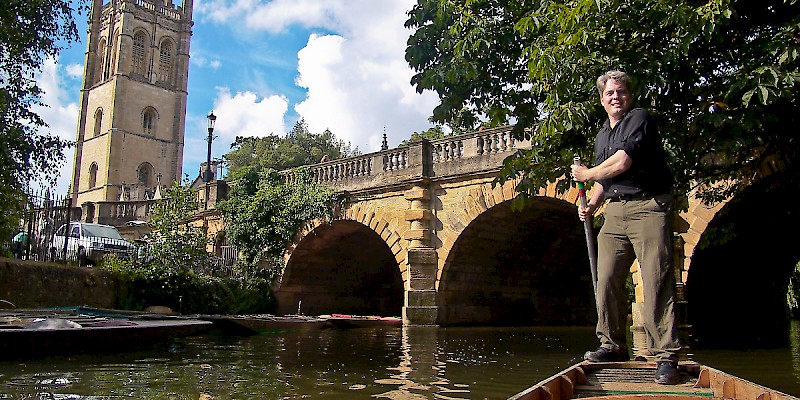 Poling a flat skiff down the Cherwell River through the Meadows of Oxford
In most of England a "punter" simply means someone who goes to pubs, an activity at which I've always excelled.
In Oxford, however, being a punter involves balancing precariously at the back end of a 24-foot-long skiff, gripping a sixteen-foot pole, and attempting to shove a flat-bottomed boat in something resembling a straight line down a narrow twisting stream overhung with tree branches, picturesque low bridges, and other maritime hazards.
My wife thought this was great fun because all she had to do was lean back against some cushions while I spent an hour laboriously pushing us in a big circuit around the island created by the Cherwell River's braided streams just south of Magdalen Bridge, where we picked up our boat from Oxford Punting. (In her defense, she was seven months pregnant at the time...) 
I spent most of my time concentrating on keeping my balance and figuring out how not to get the pole stuck in the mucky river bottom every time I pushed off—the trick is to give it a half twist as you yank it out. (Many a novice punter has, in a panic, kept their stuck pole in a death grip and let it drag them right off the boat.) 
Punts are designed for shallow rivers so, though two-dozen feet long and three feet wide, they're just 18 inches deep and have no keel whatsoever. This means I was attempting to steer what was essentially little more than an enormous wooden plank. 
Also, it turns out the guy who gave me my whopping 25 seconds of instruction was teaching me the Cambridge method of punting: standing at the very back edge of the flat "till" that occupies one end of the boat (both ends are squared off—I told you it was a plank—so there is no sense of which is meant to be the front).
Apparently, the preferred Oxford position is to stand down in the bottom of boat at the far end so that the till becomes the prow. I have also since read that, as a right-hander, I'm meant to stand with my right foot forward, not my left, which may explain why my feet hurt for the rest of the afternoon.
Frances, meanwhile, spent a lazy hour watching willow whips trace wavelets in the current, duck families waddle across Christ Church Meadows, couples stroll the towpaths, and the occasional white swan glide by. 
Once or twice I took a break from poling, clambered down onto a cushion myself, and shared in the scenery. It is, after all, terribly romantic. (American student T.S. Eliot first encountered his future wife while punting the Cherwell.)
The shady riverbanks, grassy meadows, and the famous dreamscape of spires and gargoyled buildings rising beyond...it was suddenly quite easy to see how Oxford has inspired some of the richest fantasy worlds in English literature.
An upstream rental spot
The boat rentals at Magdalen Bridge are undoutedly the most central and convenient, but you can also rent punts (and rowboats and canoes) at the Cherwell Boathouse restaurant north of the city center.
They cost a bit less—£16 per hour weedays, £18 per hour on the weekends (£80 and £90 respectively for an all-day rental).
The Cherwell Boathouse is open 10am to dusk, mid-March through mid-October.
They will also pack you a picnic lunch from £9.50 per person, if you book at least 48 hours in advance.
Punt Tours
More tours
Related