Christ Church College
★★★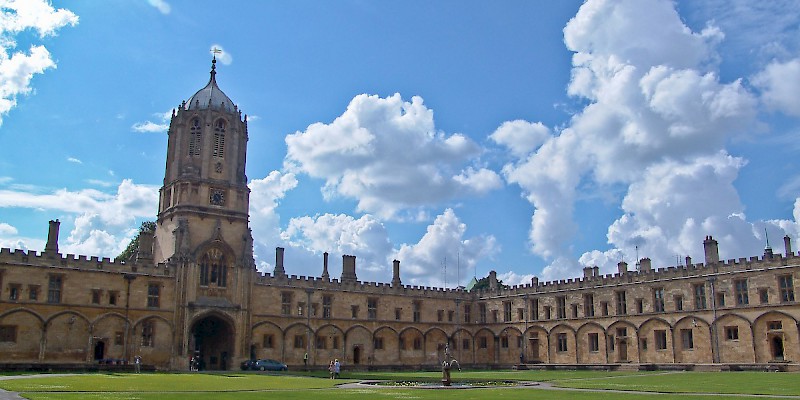 The postcard Oxford college, film template for Hogwarts and home to the Oxford cathedral
Christ Church is probaly the most famous college at Oxford. It dates from 1525, with the largest quadrangle in town.
The bell tower over the entrance—the the top half of which was designed by Christopher Wren—houses the famous Great Tom bell, which rings every evening at 9:05 pm to signal the closing of the school gates, pealing 101 times in honor of the collegeís original 101 students. 
Alice in Wonderland author Lewis Carroll once taught maths here, but perhaps its most famous "students" are fictional—many scenes in the Harry Potter movies were set here, including the grand 16C staircase (where, in the first film, Professor McGonagall welcomes the new students and Harry has his first run-in with Draco Malfoy), the cloisters, and the Great Hall where the young wizards and witches dine (though that one was actually replicated on a soundstage). 
The Great Hall is an enormous oblong dining room with long tables down the middle, the wood-panneld walls lined by portraits of past dons. Yeah, just picture the one from Harry Potter, only with a real ceiling and no floating candles.
The raised dais at the far end is where professors dine; Charles Dodgson (better known as Lewis Carroll) was fond of slipping out of meals early through a door hidden in the paneling in the back left corner and down a tight sprial staircase—his own rabbit hole of escape, which just may have inspired a fictional rabbit hole of his invention. (Modern fire codes mean the "hidden" door is not so secret anymore; there's a bright green "EXIT" sign above it now.)
The college chapel also happens to be the local cathedral, one of the tiniest in England.