St Thomas and St Edmund's Church
★
☆☆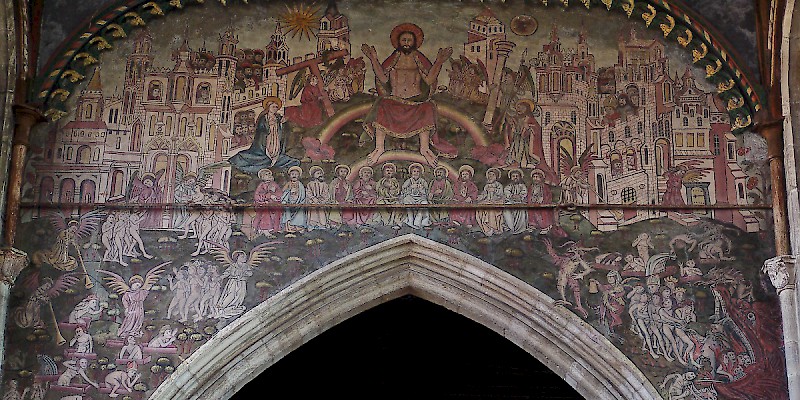 A medieval church with a fabulous Doom fresco
This church began around 1219 as a chapel for the workers on the nearby cathedral. The current structure, though largely Victorian in layout, was cobbled together largely between the late 13th century and the 15th century.
The way-cool Doom fresco on the chancel arch was painted by an unknown artist (possibly a Brit who had studied in the Netherlands) around 1470–1500, commissioned by a local pilgrim thankful that he made it back home safely.
"Doom" was the Anglo-Saxon word for fate, or judgment, so this really is a classic Last Judgment work, with Christ chilling on a double rainbow at the center, just above His apostles, judging the mortal souls rising from their graves on the left. Some souls are being escorted by angels into a very medieval city–looking Heaven; others are being dragged by demons into Hell on the lower right. 
The painting is full of fun details, like the dishonest alewife with her short-measure jug and the miser clutching his bags of money, both being dragged down to Hell (which, you will notice, has far more kings and bishops than does Heaven).
At the bottom is a scroll reading Nulla est Redemptio—"No escape for the wicked."
In 1593, after the Reformation, the fresco was whitewashed and replaced with a panel showing Elizabeth I's coat of arms. The whitewash was carefully removed in 1819 when locals noticed traces of the colors underneath. The fresco was then carefully copied onto paper... and then whitewashed over again!
In 1881, smarter heads prevailed and the fresco was once again uncovered—this time for good—though the restoration in oils of the original work were a bit heavy-handed.