Alton Barnes white horse
☆☆☆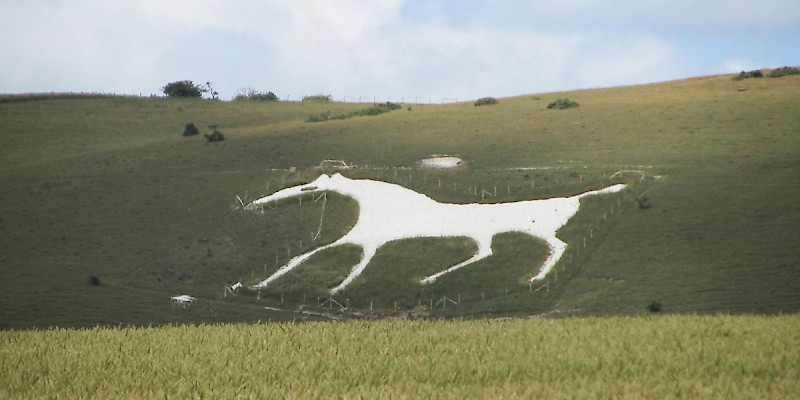 One of the most visible and well-defined chalk horses, from 1812
They say that when Mr. Robert Pile, of Manor Farm, hired John "The Painter" Thorne to design and cut his horse in 1812, Throne designed the horse, subcontracted the cutting of it, then skipped town with his £20, forcing Pile to hire someone else to finish the job.
At 51m (166 feet) tall and 49m (160 feet) wide, if would seem to be a rather disproportionate horse, but this was actually done on purpose. When seen from a low angle at a distance—as intended—the exaggerated height counteracts the natural foreshortening effect, making the horse look properly proportioned.
This well-defined horse on Milk Hill by Walker's Hill on the Pewsey Downs has been kept in good shape and well-scoured over the years.
In 2010, the current landowner Tim Carson and the Alton Barnes Parish Council helicoptered in 150 tons of fresh chalk to give the horse a 21C facelift.
Alton Barnes White Horse Tours
These might include Alton Barnes white horse
More tours
Related pages
Similar interests: