One day in Bath
How to make the most of 24 hours in Bath
This itinerary assumes you are arriving in Bath around mid-morning from somewhere else in Britain, so it picks up around 10am. (Tip: There's an 8:30am train from London Paddington train station which arrives in Bath at 9:59am.)
If you happen to have truly a full day in Bath (i.e.: you are waking up in a hotel here), I'd go ahead hit Bath Abbey first thing in the morning, before the tour; that way you can allow yourself a bit longer at tea and/or touring the Roman Baths. (Or you could always just sleep in!)
Check into your Bath hotel—but just stay long enough to drop you bags and splash some water on your face so you can head right back out again to begin enjoying Bath. You want to be on the Abbey Church Yard before 10:30am for your free tour!
Be on the Abbey Church Yard in front the of The Pump Rooms by 10:30am for an amazing free walking tour of Bath, during which you'll see lots of architectural highlights, including The Royal Crescent, The Circus, and Pulteney Bridge.
Time: 120 min. 
Have a proper afternoon tea (in lieu of lunch) in the elegant Pump Rooms.
Time: 60 min.
Visit the marvelously gothic Bath Abbey.
Time: 20 min.
Tour the ancient Roman Baths at the heart of town.
Time: 90 min.
Visit the Victoria Art Gallery.
Time: 45 min.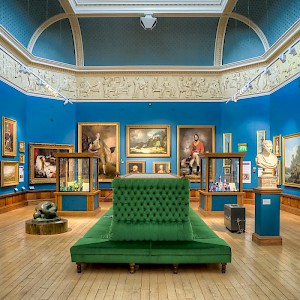 Bath's small public art museum has a nice collection including Gainsborough oil pantings
Time to hit the Bath Spa! Spend two hours soaking in the waters and taking treatments like an ancient Roman or Georgian grandee.  
Time: 120 min.
Have a late dinner and call it a night.
Where to eat in Bath, from restaurants to pubs, Indian take-out to afternoon tea
What the grey and blue time bubbles mean
Since this itinerary takes into account travel time (walking, taking the Tube, driving, whatever):
The times in grey circles are the times by which you need to start moving in order to go to the next stop.
The times in blue circles are the times by which you should arrive at that stop to begin the fun.