Travel gear & gadgets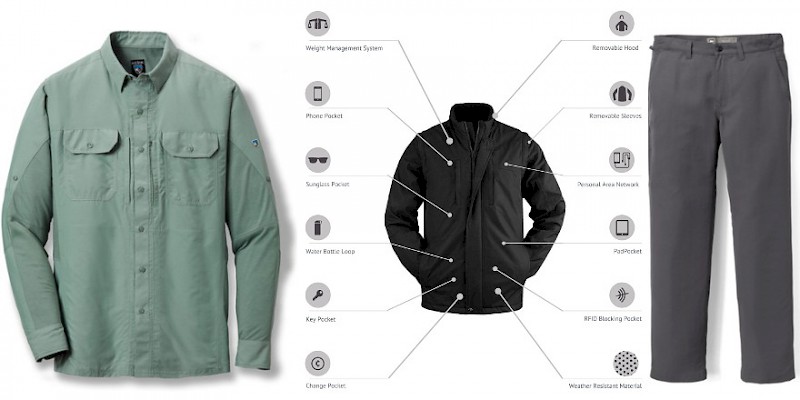 A semi-philosophical discourse on just why specialty travel clothes, luggage, gear, and gadgets can make travel easier, more comfortable, and less stressful all around—plus, you get just a smidgen of that James Bond feeling, what with all the hidden pockets and such
There's a lot of stuff out there to consider when you're packing—or more precisely, two to three weeks before you start packing (you need time to order it, after all).
Electrical converters and us-to-uk plug adapters; a carry-on-sized backpack with daypack or soft-sided wheeled luggage; flat moneybelts to be worn under your clothes to keep your passport and such safe; biodegradable laundry solution; pocket binoculars; respectable-looking walking shoes, teensy folding umbrellas, military-strength insect repellent, camping towels, silk sleep sacks...
Is it really worth investing in all these travel gadgets and specialty clothing?
Well, if you plan to travel a bunch, I'd say yes. A good travel bag can last you for years. Mosquitoes bite the world over (and most of Europe has yet to discover window screens—which would be fine if they believed in air-conditioning, which hotels below three or four stars generally don't).
Both you and your hotelier will be happier if you don't blow the building's fuses and melt your hairdryer when you plug it in. An umbrella is always wise. The right clothing can make your trips run easier and faster. You can do laundry in the sink since the clothes are made to wash and drip dry quickly. 
These travel clothes are durable as all get out, so they'll last far beyond the time when their cut and color are no longer fashionable (not that travel clothes are ever haute couture to begin with). And they're loaded with security pockets. In fact, what travel clothes are made for is to (a) keep your naughty bits from showing, (b) warmth, and (c) serve as support systems for your pockets.
Pockets Are a Traveler's Best Friend
Whether zippered or buttoned, hidden away inside a jacket lining or waistband or the underside of your belt, or providing just a convenient and classic pouch with a slit at the top, you can never have enough pockets.
When I don my full-bore traveling regalia—pants, shirt, belt, and jacket—I'm surrounded by 37 pockets (give or take, depending on which shirt I'm wearing). And that's before we get to my moneybelt (2 more pockets) and trusty daypack.
Travel Duds
That's why when I travel, I wear specialty travel clothes (gosh, that sounds like a commercial).
These pinnacles of the sartorial art are made of the anti-wrinkle, quick-drying, stain-proof (sort of), 98 SPF miracle fibers of the new millennium, ingeniously woven then stitched together in such a manner as to provide the maximum number of pockets per square foot while still vaguely resembling normal clothing (though, with pockets fully loaded, it's tough to resemble anything so much as the Michelin Man with mumps).
My anti-wrinkle button-down shirts have zippered compartments behind both breast pockets, each long enough for my plane tickets. My stain-proof slacks always have a wallet-sized zippered compartment just inside the regular slash pocket to foil pickpockets. My travel jackets have as many as 26 pockets, when I'm wearing the SCOTTeVEST. (Yes, it weighs a ton when loaded down—but at least it doesn't count as a carry-on!) 
I actually got terribly excited when I walked into a outdoors and sporting goods store and saw that travel clothing manufacturer Ex-Officio had come out with a brand-new product and on the label it simply saidL "17 countries. 6 months. 1 pair of underwear." 
I bought five of 'em. 
And of course there's that grudging fashion concession to ultimate garment practicality: convertible pants.
No, I don't mean that the top comes down; that would be embarrassing and, in most places, illegal. I mean the sort of trousers where the legs zipper off just below the knee to become shorts. A bit goofy, yes, but darned practical for moving from a hot daytime hike to a mosquito-ridden night (or for when you run into an unexpected opportunity to go swimming). 
The reason for all those pockets? They mean you can skip the step of girding yourself with a phalanx of fanny packs and day packs and still keep all your frequently needed items close at hand and your valuables close to your body—in hidden pockets and moneybelts—and hence very well protected.
(See, and you just thought that whole pocket thing was just a fetish of mine.)