Biking

Planning for a trip to England

Biking Tours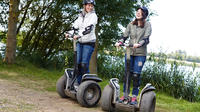 Take to the Segway Rally tracks on these fun-filled machines as you navigate the twists, turns and uneven surface of the Rally courses! A fun-filled experience, a Segway Rally for two is a fantastic experience for people of all ages particularly as you control the speed of the Segway with your own weight.
A Segway Rally provides people of all ages with a fun and exciting Segway experience!  As you take to the various terrains of the Windsor Rally tracks you will master the skills of a Segway as you use your weight to navigate the twists and turns of your chosen Segway Rally course. An activity like no other, your Segway Rally experience will provide you with a fantastic and unforgettable ride! This Segway adventure for two is a great experience for all ages valid at 14 locations nationwide. 

This is valid for a 60-minute experience which includes safety briefing, training session, safety equipment, time to test your Segway skills and a complimentary certificate.

Height and weight restrictions apply so please ensure you are over 134 cm tall and your weight exceeds 45 kg but is under 117 kg.

(no rating)
These might include biking
More tours