London City Airport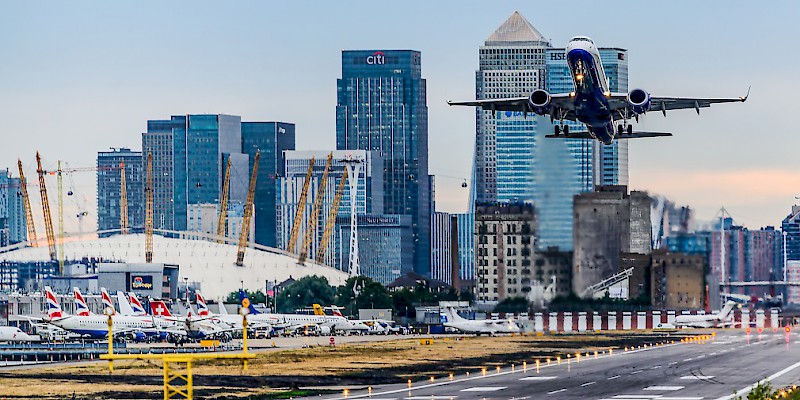 Little London City Airport is actually in London—but few airlines use it.
Some British Airways flights from Britain and northern Europe land at London City Airport (airport code: LCY), on the Thames just 9 miles east of the center.
A few other airlines use London City Airport as well, but not many—though there is a daily BA flight to and from New York. 
How to get between London City Airport and central London
By DLR (public transit train): £3.30–£4.90 ($4.85–$7.20); 22 min.
London City Airport is on the Woolwich/Arsenal DLR line.
You can ride this into central London for 22 minutes to hook up with the larger Tube network at the Bank station (Circle, District, Central, Northern, Waterloo & City lines)—or, with a change at Canning Town, the Tower Gateway station near the Tower of London (Circle and District lines). 
London City Airport is in Zone 3, so if you get a Zones 1–2 Oyster Card as recommended, make sure there is a bit of extra cash on it to cover the Zone 3 supplement.
By private car: £13–£36 ($19–$52); 20–40 min. 
The easiest way to book a private transfer is through Viator.com.
Note that the lowest lead price is per person, but for the entire vehicle—so you'll only pay that lowest per-person rate if you stuff it with eight people. The per-person price goes up the fewer people you have in the car, so it only really makes sense if you have a larger party. Otherwise, just grab a regular taxi cab and split the cost.
By taxi: £25–£45 ($37–$66); 20-40 min.
The priciest option—though not for three or more people—is to grab a London taxi cab.
London City Airport transfers links
Related
General tips of similar interest
Also in Plane to London:
Related pages