London Stansted Airport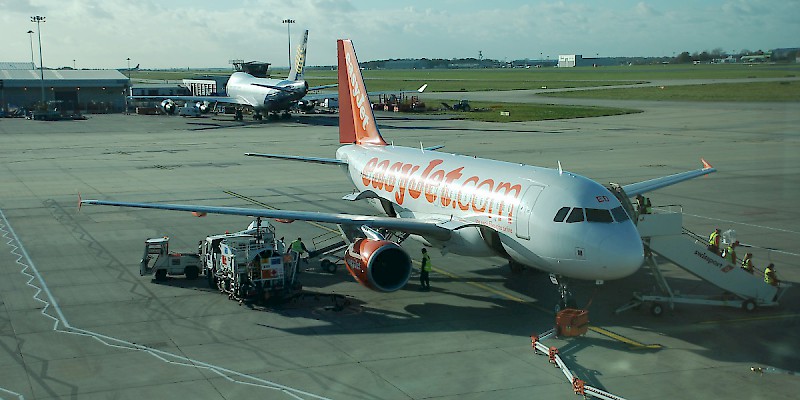 Stansted Airport, an hour north of London, is popular with easyJet, Ryanair, and many other low cost carriers
London Stansted Airport (airport code: STN)—popular with no-frills airlines and low cost carriers (including easyJet, Ryanair, germanwings, and Air Berlin)—is located 39 miles north-northeast of London.
How to get between London Stansted Airport and central London
In summary: 
Full details and tips are below, but in brief:
By express train: £8–£19 ($12–$28); 47 min.
The Stansted Express (Stanstedexpress.com) travels between the airport terminal and London's Liverpool Station in 47 minutes every 15 minutes. There is free WiFi on-board.
The ticket price depends on how far in advance you book it—£19 within three days, £17 within a week, and £12–£15 if you book more than a week in advance, £8 roughly six weeks ahead. (The ticket is good for the entire day, not a specific train, so you don't have to worry about a delayed flight getting in the way of booking it in advance).
By coach / bus: £1.95–£12 ($2.85–$18); 65–125 min.
From Stansted Airport, easyBus (Easybus.com) runs the cheapest service, 2–3 per hour to London Victoria Coach Station (115–125 min.), with stops at several Tube stations along the way, including central ones like Baker Street (90–100 min.) and Marble Arch (100–110 min.). Fares are lowest when booked in advance, starting as low as £1.95 a month or more out—though more like £8–£10 when booked within the month, topping out at £12.
Terravision (Terravision.eu) runs half-hourly buses. Some are direct bus to London's Victoria Coach Station (75 min.); others stop first at Liverpool Street (55 mins) before continuing to Victoria. Fares for either bus (and any stop) are a flat £6.
Also, National Express (Nationalexpress.com) runs an airport shuttle which gets you to London's Liverpool Street Station in 65 minutes, making up to 15 other stops within Greater London, for £6–£12 (the cheaper prices are for booking tickets at least a few days in advance.)
By private car: £18–£47 ($26–$69); 55–65 min. 
The easiest way to book a private transfer is through Viator.com.
Note that the "private" transfers (with the lowest lead price) are per person but for the entire vehicle—so you'll only pay that lowest per-person rate if you stuff it with eight people. The per-person price goes up the fewer people you have in the car, so it only really makes sense if you have at least four people in your party (paying roughly £29/$43 a piece).
The better option for three people or fewer is to book one of the the "shared" transfers. You may have to make a few stops along the way at fellow passengers' hotels, but the per-person rate is capped at the much lower, £31/$46 per-person price. 
By taxi: £20–£85 ($30–$125); 55–65 min.
The priciest option—though not for three or more people—is to grab a taxi cab.
The preferred service at Stansted Airport is 24x7stansted.com (tel. (0)1279-661-111).
They also offer a "taxi share" option for a minimum of three people that drops you off at a suburban Tube station. The rate is £12–£18 per person, but once you add in the Tube fare to get into central London, it's more like £23. 
Stansted airport transfers links
Tips
How do I get from Stansted to another London airport?
Related
General tips of similar interest