Freud Museum
☆☆☆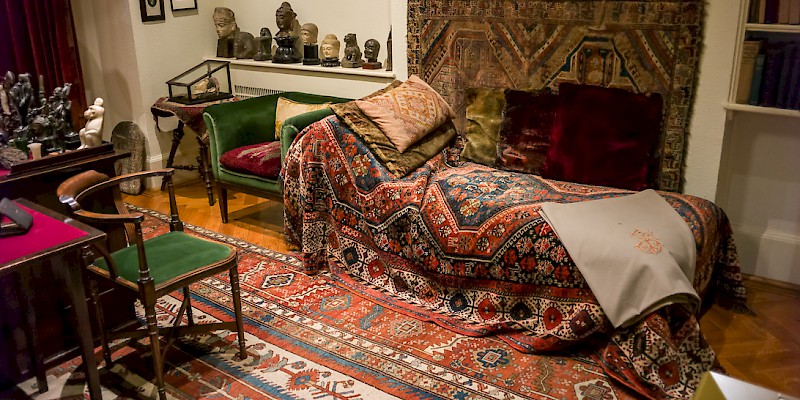 The Hampstead home where Freud spent his final year retains the actual couch Freud used during psychoanalysis sessions
When Freud and his family fled Nazi-occupied Austria in June of 1938, he ended up at this brick home in the southern end of Hampstead Village.
Here his Vienna consulting room was faithfully reconstructed, right down to the famous couch used for psychoanalysis, draped in an ornate Iranian rug and piled with chenille cushions.
The Freuds filled their new home with the good doctor's collection of Greek, Roman, and Egyptian antiquities and sculptures, his vast library, his Biedermeir and painted Austrian 18th and 19th century furnishings, and his Oriental rugs.
Sadly, the cancer eating away Freud's jaw quickly worsened, and he died here, at the age of 83, barely a year after moving in, on September 23, 1939.
Sigmund's daughter, Anna Freud, continued to see patients here in an upstairs studio until her death in 1982.
Sigmund's ashes—later comingled with those of his wife—are encased in an ancient Grecian urn (a present from Princess Marie Bonaparte) in nearby Golders Green Crematorium, which also retains the ashes of his daughter, Anna, (as well as those of Bram Stoker and Peter Sellers).
Tips
How long should I spend at the Freud House?
Since really only Freud fans will be coming here, figure on spending 30–45 minutes.
If you are only willing to plump the £7 just to see that famous couch, figure more like 20 minutes.
Related