Westminster Cathedral
☆☆☆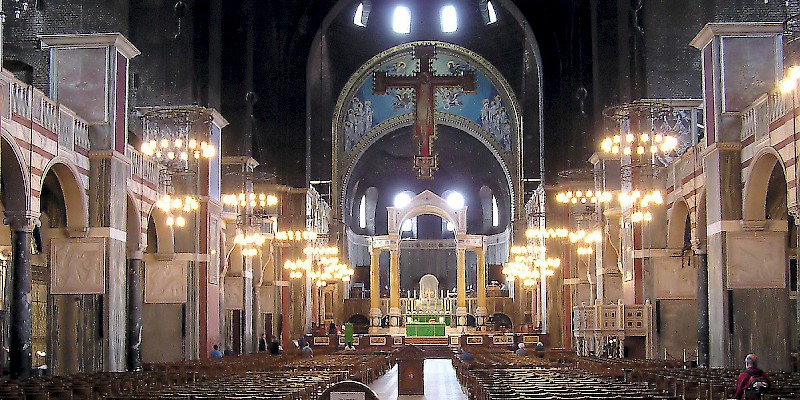 London's Catohlic cathedral is notable for free organ concerts and boys' choir—and for NOT being the far more famous Westminster Abbey
First things first: this is not world-renowned Westminster Abbey, where all the famous dead blokes are buried (and you have to pay to pay your respects) and which, confusingly, is located just a few blocks up the road.
Rather this is London's Catholic cathedral, a typically flamboyant and inventive Victorian era imitation of Italian Romanesque architecture, from the red striped bell tower to the rich inlaid marbles (at least 126 varieties form 24 countries on five continents) and mosaics of the interior.
Unlike the more famous Westminster up the street, Westminster Cathedral is free to enter—but, frankly, is far less interesting. There are, however, excellent, 30-minute Sunday organ recitals at 4:45pm on the Henry Willis II organ, and some nice views over the neighborhood from 64m (210 feet) up in the tower (adm).
It is also home to a renowned Choir of Westminster Cathedral, a boys' choir backed by ten professional Lay Clerks, making Westminster the only Catholic church in the world that still sings daily Mass and Vespers (they also perform regular concerts, frequently backing visiting singers).
Westminster Cathedral also has a rather lurid history, for a holy site.
Westminster Cathedral was built by John Bentley in 1895–1903 on a site that had previously and variously been a medieval marketplace and fairground, a pleasure garden, bull-baiting ring, burial site for Scottish prisoners by Oliver Cromwell, and finally a prison—the 19th century equivalent of a medium-security gaol for women and boys under 18 whose minor crimes did not merit Transport (sending them off to a foreign penal colony, like Australia).
Westminster Cathedral Tours
Tips
How long does Westminster Cathedral take?
You can pop in for 10 minutes, or stay for a concert.
Related