London by boat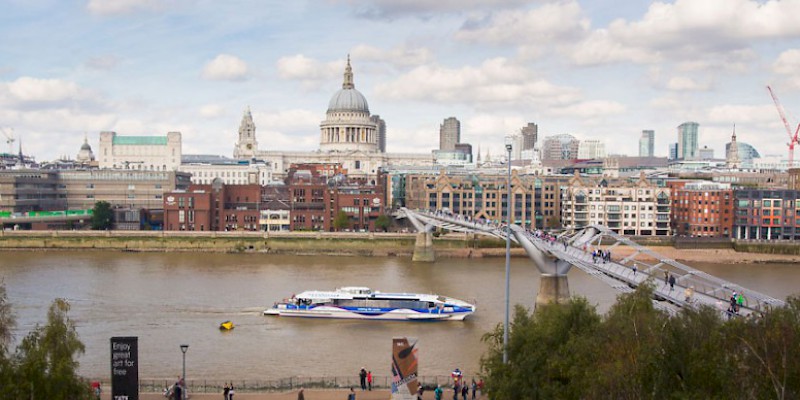 Ferries, river boats, and Thames cruises in London
Both passenger ferries and tourist cruises ply the waters of the Thames River.
Thames Ferries and River Buses
The River Bus, operated by Thames Clippers, plies five routes up and down the Thames, plus a few cross-river ferries. There's a map, as well as up-to-date info about fares and departure times (as frequent as every 5–10 minutes in summer), at Tfl.gov.uk.
You can pay for rides using the same Oyster Card as all other forms of public transport in London.
Adult fares vary with the journey and route, but typically run about £3.90–£7 if you use a pay-as-you-go Oyster Card (if you have a Travelcard on it you still pay for any boat ride, but do get a 33% discount).
If you do not have an Oyster Card, individual single fare tickets cost £4.20–£8.
Thames River cruises
There are also tourist cruises with live guided commentary.
These are not covered by your Oyster card—though two are free with the London Pass (the classic 24-hour hop-on/hop-off ticket with City Cruises plus the intriguing Jason's Canal Boat Trip), and the pass also gets 20% off some other cruises.
Most cruises cost just £11–£17—more for one that includes a meal or entertainment, naturally.
Public transit links
Tfl.gov.uk - Covers pretty much all London transportation, including the Tube and buses but also taxis, the DLR and other local light rail systems, trams, the London bike share program, and other one-off transport options.
Nationalrail.co.uk - Covers all of the lines once operated by the (since-privitized) old British Rail. This includes most major British railways, but notably does not cover many urban area light rail systems (such as London, Glasgow, Manchester, Blackpool, Sheffield, and Midland Metro), nor does it cover the Eurostar, Heathrow Express, nor a handful of heritage or privately owned railways. Still, it's the closest thing to one-stop shopping for finding train connections across the mainland U.K. (though not Northern Ireland).
Related pages
Similar interests: