Uffington white horse
★
☆☆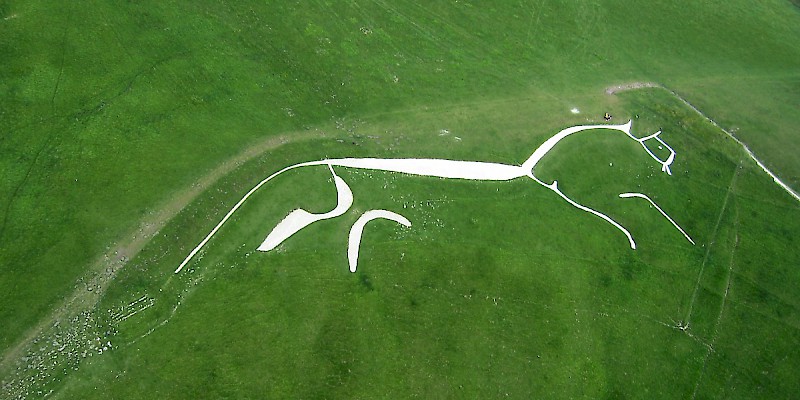 The original White Horse, a stylized Bronze Age figure carved into an Oxfordshire hillside
This wonderfully stylized and minimalist horse is the granddaddy of white chalk figures, first carved some time in the late Bronze Age some 3,000 years ago.
At 365 long, made up of swooping ten-foot-white lines, the Uffington Horse resembles the horse imagery found on Celtic coins.
What exactly it represents is open to conjecture: Totem of a local tribe, something related to a god or goddess? Whatever it meant originally, it has long been revered by the locals, who have kept it cleared and cut for three millennia. 
You should know that is is quite difficult to see this horse, as it's carved near the flat top of the ridge and is best viewed from the air. From the parking area trails (many often closed to keep the site safe) or surrounding hillsides, you at best see it askance, a few white lines curving away across the hillside. Still, it's undeniably cool.
Volunteers are on hand April through October to help interpret the site; otherwise, it's just the posted placards.
Note that the parking lot is actually on Woolstone Road off the B4507, not Dragon Hill Road. Also, there are no bathrooms on site.
Surrounding the horse are some other nifty sights:
Uffington Castle - A rampart and ditch outline the remains of an Iron Age hill fort at 262m (860 feet) atop White Horse Hill, the highest point in Oxfordshire affording sweeping views across six counties.
Dragon Hill - This flatop hill across the road from White Horse Hill is where, legend holds, St. George slayed the dragon. The dragon's blood dropped to the ground and burned a white chalk scar see. (It's actually not canon that the converted 4th century Roman soldier named George slew anything—other than other people as part of his normally soldiering duties—and at any rate he never strayed far from the Greco-Turkish area where he was born.)
The Giant's Steps - A run of ruffled ground in The Manger (a dry valley below the horse) rippled by retreating permafrost during the last Ice Age.
Burial Mounds - As you walk up to the horse, you will pass a number of burial mounds used from the Neolithic Age though the Saxon era, the largest of which contained 47 skeletons.
Uffington White Horse Tours
These might include Uffington white horse
More tours
Tips
Help re-chalk the horse!
The National Trust often offers a date or two in July when visitors are invited to come help keep the horse in tip-top condition, clearing weeds and debris and cracking more chalk to keep it white.
It's popular, so be sure to book in advance (usually starting in May).
Related pages
Similar interests: