Hyde Park
★★
☆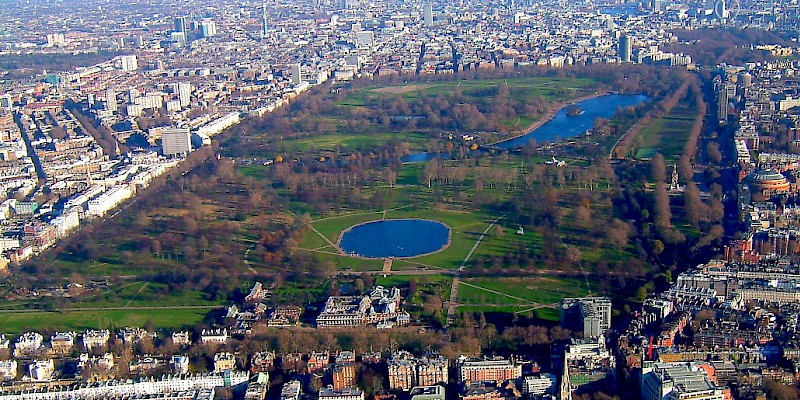 London's largest central park is home to green lawns, path-threaded woods, and Speaker's Corner
Founded as a hunting preserve by Henry VIII,  Hyde Park's 350 acres were opened to the public way back in the early 1600s. 
This massive park in the west of London is a green lung of 4,000 trees, winding pathways, various monuments, two modern art galleries, a rose garden near the SE corner, and the long curve of Serpentine Lake.
The lake sports a swimming lido (open daily June to mis-Sept, plus weekend in May) and boat rentals from the north shore of the southeast end (open 10am to sunset Apr to Oct).
Among the many monuments are the smoothly flowing 2004 Diana Memorial Fountain (just E of Carriage Drive south of the Serpentine), the somber boulder garden 1983 Holocaust Memorial (just E of the end of the Serptintine), and the 7 July Memorial, 53 stainless steel pillars erected in 2009 to commemorate the lives lost in the 7/7 terrorist bombings of in London subways in 2005 (in the SE corner of the park).
The free Serpentine Galleries, flanking the lake near the bridge, host exhibitions showcasing the best of contemporary art, design, and architecture. » more
Hyde Park is bounded by London's chic neighborhoods to the south, the theater of the West End to the east, and residential areas like Notting Hill to the north.
To the east, across Serpentine Lake, Hyde Park shades into the formal gardens of Kensington Palace.
Speakers' Corner
The very northeast corner of Hyde Park, near the Marble Arch, is Speakers' Corner, the traditional spot since 1872 for public soapboxing in London, where crackpots and conspiracy theorists traditionally hold forth.
(The tradiiton arose from the final speeches given to crowds of onlookers by the some 50,000 condemned prisoners who were hanged at the nearby Tyburn Gallows between 1196 and 1783.)
Anyone with a grievance to air, political theory to espouse, cause to champion, or alien abductors to warn us about can take the stage (or rather, climb atop a crate) and harangue the passersby.
The busiest and best time to visit Speakers' Corner is Sunday morning.
Tips
How long should I spend on Hyde Park?
It's a park! Spend as long as you need to relax and regroup for the sightseeing.
Related