Kensington Palace
★★
☆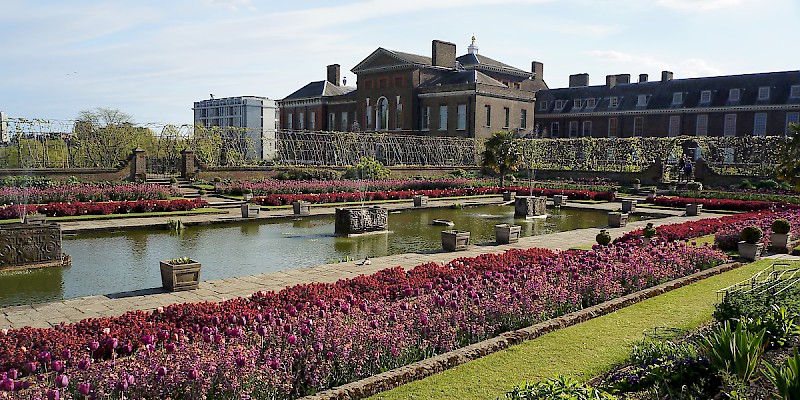 The 17th century royal palace where Queen Victoria grew up and Prince William and Kate live
Kensington Palace is a Jacobean manor built in 1605, becoming Nottingham House in 1619.
King William and Queen Mary bought it in 1689 and hired Christopher Wren to expand it into a royal residence. 
It's most famous as the place where the future Queen Victoria was born (1819) and grew up—though has had a resurgence of popularity since it became home, in 2011, to the Duke and Duchess of Cambridge (better known as Prince William and Kate Middleton), and Prince Harry took an apartment here in 2012.
Apart from the royally furnished rooms, the palace hosts an ever-changing roster of exhibitions, many of which are dedicated to examining the history and role of royalty in Britain—a few recent shows included one devoted to the fashions of Princess Diana, another to the life of Queen Victoria, and another to a trio of 18C German princesses who married into the British royal family during the Enlightenment period.
It's elegant Orangery has been converted into a cafe and is a popular afternoon tea spot.
The lovely Kensington Gardens extend to Hyde Park to the east.
Tickets
Tips
How long should I spend in Kensington Palace?
If you have the desire to visit, you are probably going to want to spend the time to get enough out of it—examining the exhibitions, touring the rooms, taking tea in Orangery, wandering the gardens.
Figure on at least 90 minutes to two hours.
Related
Related pages
Similar interests:
Artists & others: